Puppi and Burma the adventure cat.
I went to the Grange pet country today with 20 three and four years olds in tow. We saw this guy there with this very old calm dog, and this incredibly calm, mellow cat. We looked at the cat and the guy said "This is Burma the Adventure Cat." Burma the Adventure Cat seemed unphased to see 20 preschoolers. It just gazed back at us. I was curious about Burma, so I googled him when I got home and was surprised to find Burma has a facebook page and a book and a movie, and Burma and Puppi's owner is a homeless vet who served in the first Bush admin in Iraq. Burma and Puppi are his family.
Apparently Stephen has a few health issues.
It seems the threesome have a facebook page
https://www.facebook.com/PuppiandBurma
and a Twitter page.
And articles about them.
http://www.oregonlive.com/pets/index.ssf...eless.html
Apparently Burma and Puppi climb tall mountains.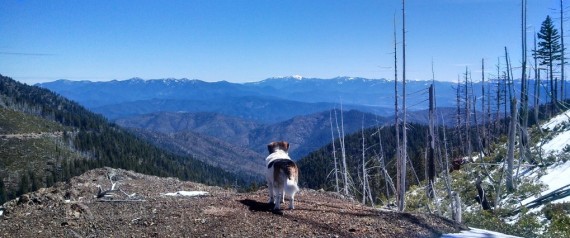 And swim in what looks like the Smith River:
And generally traverse Southern Oregon.
They have articles about them and their owner Stephen Simmons in Huffington Post


After his return from the Iraq war, Stephen - like many other veterans - battled deep depression and anger; he struggled to find his place in society. A claim to the VA for Post Traumatic Stress was denied repeatedly, and Stephen slipped into a kind of despair. By 2012 he was homeless and living in Southern Oregon's rugged outdoors, focusing all his energy on survival of the mind and spirit.

He turned to running in the high mountains as a way to satisfy his need for adrenaline-filled adventure, and he documented the harsh lifestyle with thousands of photos. Although every day is a challenge, Stephen says, "This lifestyle has become a therapy, and has given me immense hope for the future, and a newfound determination to overcome this situation."


http://www.huffingtonpost.com/2013/11/10...&ir=Impact
and have a book about them started by a woman who was doing a study on homeless vets.
He recently connected with a fellow veteran, a Marine veteran named Lydia Davey, who helped him raise funds on Kickstarter to publish a book of his photography.

Friend, author and U.S. Marine veteran Lydia Davey, was moved by Stephen's transparency, and by his determination to see good in the world around him despite his circumstances. Together, Lydia and Stephen created this book to add a voice to the conversation about the dignity and humanity of those who are homeless - particularly those who have served our nation in times of war.
I'm guessing there are some on here who know Stephen and his friends. But I never knew about them. I was impressed by their story once I looked it up. I hope no one looks at this thread and turns it into a debate about homelessness or handouts or whatever, because that's not what it's about. I just wanted to share it because I felt like they were a special family.